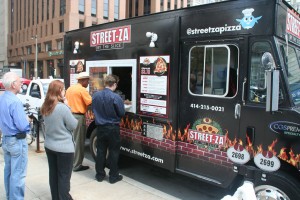 With the exploding number of food trucks on the road, it's kind of easy to predict that sooner or later, customers are going to go through a tipping point of being exhausted with food trucks. However, that's not about to happen any time soon what with the amazing new food truck ideas that are emerging. One such trend is toward the use of organic and home-grown ingredients. These food trucks are raking it in as more people discover that food cooked with organic ingredients actually taste better.
Streetza Pizza in Milwaukee
This food truck has been called the best in the country by so many well-known critics like Businessweek, GQ Magazine, Time Magazine, People Magazine, Mobile Cuisine Magazine, and Yahoo Travel among many others. The words they've used to describe the food run the gamut of overwhelming exuberance like #1, Most Creative, Perfect, Super, and Best food truck in US of A!
So what is this pizza like? According to the people behind Streetza, owners, Scott Baitinger and Steve Mai, they use only the best home grown spices, cheese and other ingredients. Their pizzas are hand stretched and they have their own special oven. Aside from these, they know that 99% of people want their pizza hot which makes their food truck concept perfect. The second the pizza comes out, it's served!
Yumbii Asian/Mexican Fusion Food, Atlanta
Yumbii is food that combines Korean, Southern, and Mexican flavors, One would think there is no way these flavors could come together in a taco or burrito but it actually works pretty well. Their bestseller is the Sesame Fries which stuns the taste buds at first and then grows on you so you want to come back for more. They also have chipotle ketchup, a flavorful cheese dip, and the spicy pulled pork taco with a Korean barbecue flavor. They also accept credit card payment but the process obviously slows down the line.
The Chef Shack, Minneapolis
Fresh organic ingredient really makes a difference once you bit into a Chef Shack sandwich. It is a little more expensive than ordinary sandwiches but you're getting the real deal here. The serving is big including the donuts! They also serve vegetarian dishes but you have to expect long line on weekends.
Related posts: